Sample Validity Platform
---
FCS files can suffer from flaws introduced by the cytometer during acquisition. FlowJo can test the validity of selected samples in the Workspace, or of all samples as they are loaded into the workspace. You can adjust the sensitivity of the test to allow small measurement fluctuations. You can exclude parameters that are not pertinent to the current analysis.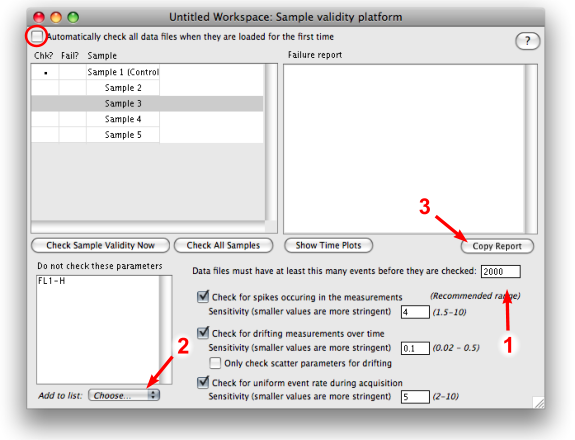 Select samples of suspect validity in the Workspace. Open the utility from Platforms > Verify Sample Validity.
If you wish to test every subsequent sample, check the box in the upper left (red circle above.)
The samples you selected will be listed on the left. Sample 1 in the example above was highlighted, then checked individually by pressing the Check Sample Validity Now button. The black dot in the Chk? column indicates that it has been checked. Had it failed, there would also be a dot in the Fail? column.
Sample 3 is highlighted and ready to be checked by the same procedure.
You can exclude from checking any files with too few events. Enter the minimum number of events to consider in the text box

1

.
You can choose to exclude any parameters by selecting them from the Add to list... drop-down menu

2

.
You can narrow the scope of your validity check by removing check marks from any of the subtests... Value Spikes, Measurement Drift, Event Rate Uniformity.
You can also change the sensitivity of the test to be more or less tolerant of mechanically induced error. Next to each sensitivity text box is a suggested range of adjustment. In each case, a lower sensitivity setting rejects more samples.
All selected samples may be checked simultaneously by clicking Check All Samples.
Using the Copy Report button

3

, the text of the validity check can be copied as a list of tab separated values, and pasted into another application. Here's an example pasted into Excel.

Clicking Show Time Plots opens the window below. For more on this tool, click here.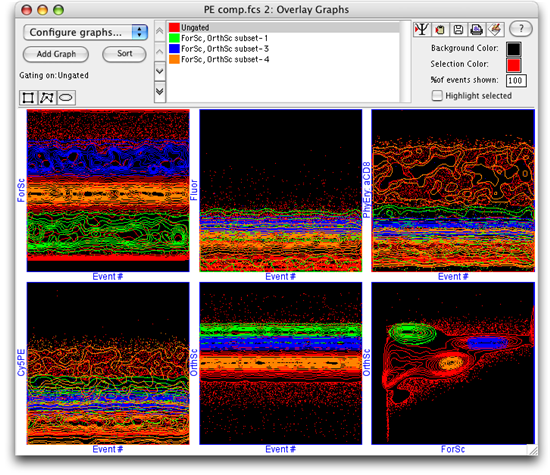 �